jacqui_monet
June 4, 2016
Today was pretty fun. I took The Niece for the first time to have one of our many bonding excursions. We saw movie cars like Lighting McQueen and the Mystery Machine. We also sat in on a panel about one of my favorite shows Eureka (Syfy Channel), which was fun although not as lively as the panel I sat on yesterday. This was not the fault of the panelists though, it was just a very different crowd.
Today I got the chance to meet an author whose work I have really enjoyed over the past few years: Frank Beddor! What?!  The author of The Looking Glass Wars and all that has since followed. It's a pretty cool series, so if you are into Alice in Wonderland, steampunk, revenge, intrigue, love and awesome action sequences, check it out!
Also, I was dressed up as Miyuki the mechanic from the anime Basquash. Frank Beddor touched my jacket and said it was soft and fancy. I didn't squeal in delight, but sadly I did smile way too big when we took a picture together. But, whatever. Who cares?! See you at con. <3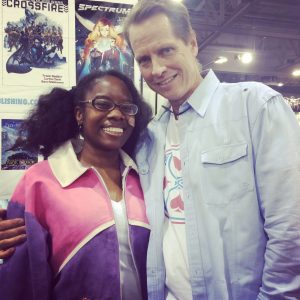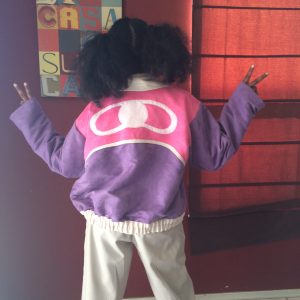 Comments are closed !