jacqui_monet
June 2, 2016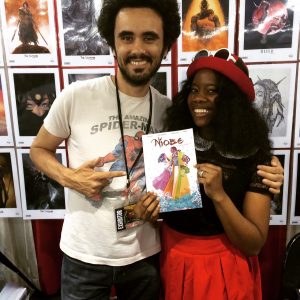 This weekend I'm at Phoenix Comicon. Day one was victorious! I  was a panelist this afternoon debating whether or not the villains from Disney's Once Upon a Time deserve to have a happy ending. This was my very first time serving as a panelist and my cohort had never been a panelist either. We were both nervous  that no one would show up and I have to say I had a case of the first timer jitters. But, the room was packed and lively and everything went off without a hitch!
After the panel, I walk the Exhibitors Hall and picked up some swag! I love getting free books. I also got to meet Sebastian A. Jones the creator of the new comic book Niobe which he co-wrote with Amandla Stenberg from the Hunger Games movies. Did I mention that I cosplayed as Serena from Pokemon XY?
All in all, I had a pretty good day today. If you run into me at PCC this weekend, make sure to always and definitely say hi!