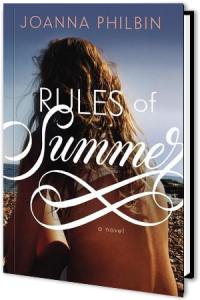 Author: Joanna Philbin
Series: Rules of Summer (book 1)
Genre: YA
Pages: 368
I recently read Rules of Summer, the first book in a series of the same name, by Joanna Philbin. The story centers around two girls summering in the Hamptons. The girls are from two completely different worlds and are there for two totally different reasons.
Isabel Rule is the youngest daughter of the Rule family. She's kind of a black sheep. She doesn't fit in well with her older siblings, she isn't interested in the same things as her peers from the exclusive Georgica Club and doesn't really feel the love from her parents either. She's been living in California at a boarding school and this is her first time being back with her family since she's been away.
Rory McShane is coming to the Hamptons from New Jersey. She's a pretty good student with two best friends and no boyfriend to speak of. Her family consists of a mom who can't really take of herself and a revolving door of step-dads-to-be. Rory doesn't want to deal with her home life nor does she want to work at Mario's pizza place again. So, when her aunt hooks her up with a gig to be an errand girl for an uber rich family for the summer, she is totally down. If only the Rule's youngest daughter was such a terror.
Rules of Summer was a very fun read. The first chapter was a little slow though, I think I read one of the pages like three times. But after that, it totally takes off!  Hot guys and surfing, make overs and family secrets. This book has a little bit of everything. It's not very deep, I'll admit, but the story does have some heart. As the summer progresses, Rory and Isabel learn more about each other and come to realize that they aren't all that different. Despite only being in high school, they both want to experience true love, to be understood my their families and to be more independent. Like any YA novel worth its salt, there are secrets, misunderstandings, missed opportunities and mean girls. There were some unresolved issues at the end that frustrated me until I learned that there would be a sequel. I really did like this book and I plan on reading the second one soon.
This book came out in paperback right as the summer of 2014 was kicking off, so here are the hottest songs from that summer to set the mood!
If this book interests you, check out the links below to experience it for yourself!
http://www.amazon.com/Rules-Summer-Joanna-Philbin/dp/0316212040
http://www.barnesandnoble.com/w/rules-of-summer-joanna-philbin/1113742188
http://www.audiobooks.com/audiobook/rules-of-summer/179648