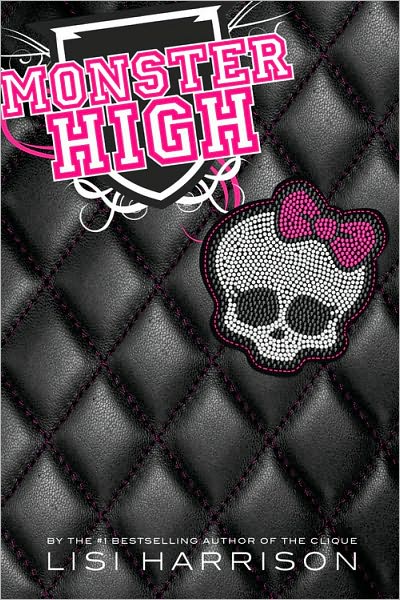 Title: Monster High
Author: Lisi Harrison
Series: Monster High (book 1)
Genre: YA/ SciFi
Pages: 246
Review:
So I started reading Monster High by Lisi Harrison, and when I say "started" I mean that I've inhaled all four of the original books. Ms. Harrison is the woman who brought us The Clique and Alphas. That being said, although I initially loved the idea of famous monsters' children (or grandchildren) attending a normal high school while reluctantly "hiding with pride" I was afraid that the story would be well, shallow.
Ms. Harrison's characters in her previous stories have tended to be incredibly one dimensional. I am glad to share that this series has been great. Heck, she even has a mean girl learn her lesson. Unlike Sharpay from High School Musical who has to relearn her lesson over and over and… Done with the rant. Anyway…
I love her decision to use nearly all of the different characters that Universal Studios explored in the 1930s. The books have everything from swamp monsters to mummies and Hyde to the son of Medusa. All of the characters are very different from each other and even though some of them are popular kids at the school, Lisi Harrison does a great job at making sure that they all have different goals and anxieties. Not all of them are popular by the way, some of them are practically invisible to those around them especially Billy (but he actual is invisible).
There is also a good mix of "normies" or normal kids like Melody and her sister Candace who move to Oregon from Beverly Hills at the beginning of the first book.
I say read the books or buy them for a teen girl you know. It's a great way to introduce SciFi to younger people without being too out there. Another plus is that it's a series and introducing a series to a young reader is the best way to ensure that they continue reading. Simply put: if they love the characters, they will want to know what happens to them.
Remember, if this book interests you, check out the links below to experience Monster High for yourself.
*Side note: my brother Josh and I plan to be dressing up as Clawd and Clawdeen Wolf, the werewolf siblings at the high school, for Phoenix ComiCon next year. There is also a cartoon for Monster High on youtube, but be aware that it doesn't follow the story line of the books AT ALL. Think of cartoon as more of an extended epilogue. I still think it's kinda cute though. They have also released some full length animated features and a live action film is in the works (supposedly).