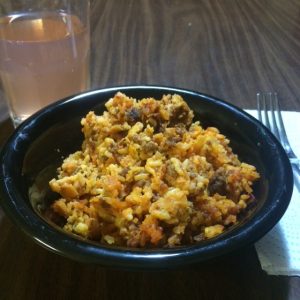 Mike lives in tiny shack-like house with a couple of his surfer bros. Joanna Philbin's description of his place makes you feel gross. Like, if you ever actually went there, you would need to strip off your clothes in the garage and take a shower as soon as you got home. A hot boy does not equal a clean home in this book and just because he lives in the Hamptons(ish) doesn't mean he has a ton of money.
Enter Mike's Doritos Casserole. You probably have all of the ingredients in your kitchen already.
You will need:
Rice 3 cups (I use microwavable Minute Rice)
Water 3 cups
Doritos large bag (not the family sized one)
Velveeta Cheese (1/2 large block or 2 small ones)
Milk ¼ cup
Ground Beef 1 lb
Jimmy Dean hot sausage 1 tube
Bottle of your favorite spaghetti sauce (I like Ragu's Chunky Sun-dried Tomato and Sweet Basil)
13×9 baking pan or casserole dish, small pot, large frying pan, large mixing bowl, strainer
Oven, stove, microwave
Directions:
Pre-heat the oven to 350.
In large bowl combine rice and water and microwave per the box's instructions. Minute rice will take 10 mins.
Meanwhile, brown the ground beef and the hot sausage together in the frying pan.
While that cooks, cube the cheese and toss it in the small pot with the milk on medium high. Frequently stir this so it won't burn. It should be very smooth.
All three things should be done at about the same time. Strain the meat and remove the cheese from the heat.
Add the meat, cheese and entire bottle of spaghetti sauce to the rice bowl. (I said it should be big haha.) Mix thoroughly.
Crunch up the entire bag of Doritos, then add it to the bowl!
Mix, mix, mix. Transfer to the casserole dish.
Cover with aluminum foil and bake for 15 mins. Remove foil and bake for another 10 mins.
Alternative:   If you want to assemble one day and then bake on the next you will have to refrigerate it and then bake for 25 mins covered and 10 mins uncovered.
This unexpected casserole is absolutely amazing and I double-dog dare you to take this to Thanksgiving dinner this year!