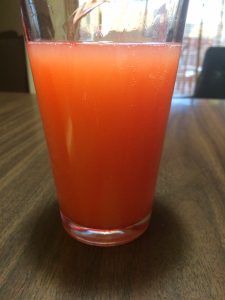 Now, I do not condone underage drinking in anyway but I didn't make the Rules, Joanna Philbin did. Lol, see what I did there? Isabel Rule? The characters' last na-. Oh never mind.
Anyway, Isabel loves her champagne. This drink is totally yummy and perfect for summer.
You will need:
1 medium peach, peeled and pureed
4-6oz Champagne (cold)
Raspberry or Strawberry sauce/syrup
Pint glass
Alternative:
If you want to easy on the wallet sub the Champagne for Sparkling white wine. Or, for a non-alcoholic version, use sparkling apple cider.
Directions:
Swirl your chosen sauce/syrup around the inside of the glass.
Pour the peach puree into the glass and slowly add Champagne. Gently stir it with a tall spoon and be careful to not touch the sides.